Connected Vehicle Environment
Concepting
a
Connected
Vehicle
Environment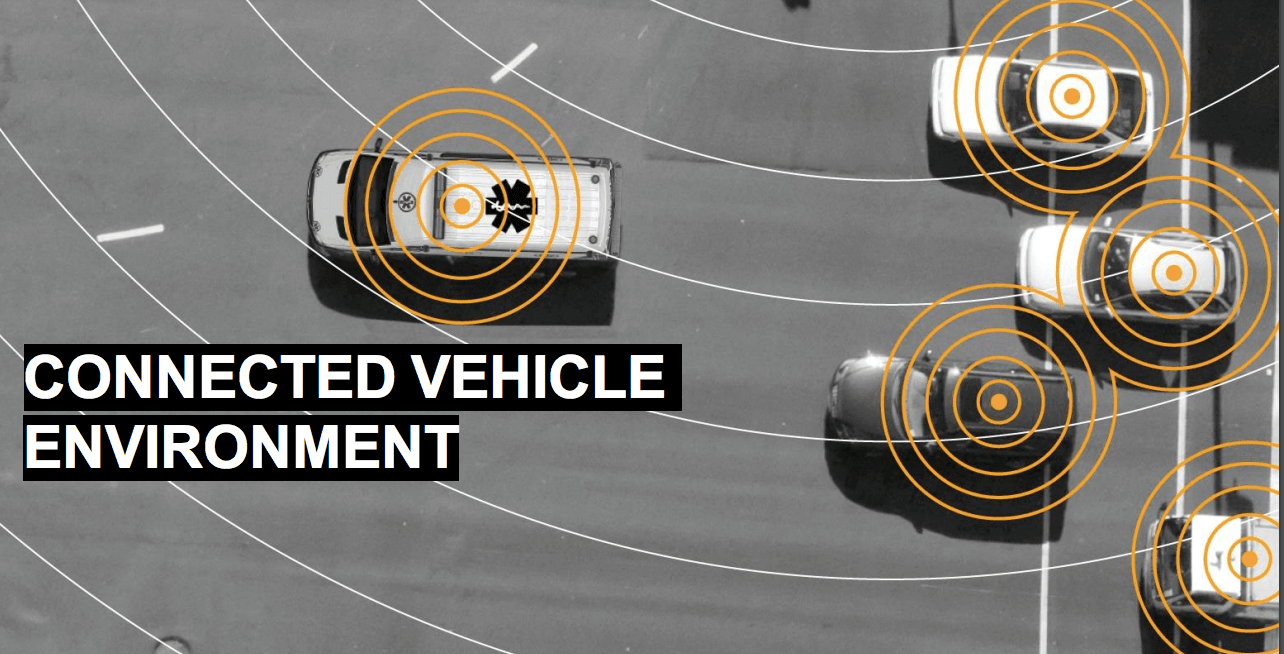 Imagine if vehicles had the ability to "talk" to each other. Cars could "speak" to other cars in efforts to avoid accidents. Emergency vehicles could alert vehicles ahead to stop and pull over, and change traffic lights ahead, so they may swiftly drive through intersections.
Creating an environment where infrastructure communicates with vehicles, and vehicles can have two-way communication would not only relieve traffic congestion, but it could save lives. There are more than five million car crashes in the U.S. annually, according to the U.S. Department of Transportation, and an estimated 94% of accidents are human error. USDOT research suggests by deploying just two of the many connected vehicle applications available, more than 1,000 lives could be saved.

There are several corridors in central Ohio with high rates of traffic congestion, leading to poor mobility conditions for emergency vehicles, freight and buses. 

Smart Columbus' connected vehicle environment (CVE) initiative is funded by the U.S. Department of Transportation's Smart City Challenge grant and seeks to address certain corridors and intersections in Columbus with high crash numbers involving vehicles, bicyclists and pedestrians. The connected vehicle environment corridors were selected based on regional crash data, enhanced transit services, recent infrastructure investments and relationship to other projects. For example, the connected vehicle environment corridors that were selected have 17 intersections in the top 100 regional high-crash intersections.

By identifying intersections and areas with high crash numbers, Smart Columbus was able to outline specific corridors where connected vehicle technology could be implemented to improve public safety.

Assembling a connected vehicle environment
The Smart Columbus CVE project will integrate smart traveler applications, automated or self-driving vehicles, connected vehicles and smart sensors into its transportation network by focusing on deploying connected vehicle (CV) infrastructure and CV applications. 

CV infrastructure consists of CV hardware and software, including roadside units, onboard equipment, front and backhaul communications and equipment interfaces. The CVE will generate the needed transportation-related data that are used by applications. The project scope also consists of deploying CV-specific applications that will leverage the data generated by the infrastructure to deliver real-time safety and mobility services. Data will be collected, stored and made available for use in other Smart Columbus project applications.

Safety applications are intended to be installed on multiple vehicle types including transit buses, first responder vehicles, city and partner fleet vehicles and private vehicles owned by residents who live and work in the project areas.

Applications will be deployed to ensure emergency vehicles and the Central Ohio Transit Agency (COTA) Bus Rapid Transit (BRT) fleet can utilize signal prioritization when needed to ensure safety and efficiency.

The CVE is expected to enhance safety and mobility for vehicle operators and improve pedestrian safety in school zones by deploying CV infrastructure on the roadside and CV equipment in vehicles. The CVE will also provide sources of high-quality data for traffic management and safety purposes. The foundation for the CVE is the Columbus Traffic Signal System (CTSS), which is a high-speed network backbone.


Maintaining a focus on the end user experience is vital from the very beginning, as technology users always want to come back to a great user experience. To best capture the needs of the proposed CVE, system engineering efforts included outreach and engagement activities with the Linden community, the CVE and connected electric autonomous vehicle technical working groups assembled by Smart Columbus subject matter experts, COTA and the City of Columbus Department of Public Safety. Each identified and supported the needs for the connected vehicle applications included in the Concept of Operations document (located below).

Smart Columbus also realized the importance of revisiting and adjusting the size and scope of the project throughout. By utilizing an Agile Project Management approach, we are able to adapt the plan as our world shifts and users' needs change.

The goal is to have 1,800 on-board units installed on passenger, heavy-duty, emergency and transit vehicles in the city of Columbus by 2020 through a series of planning, education, testing and procurement cycles. When complete, the CTSS will interconnect the region's 1,250 traffic signals and provide uniform signal coordination capability throughout the system. 

Get more insight on the full scope of the Connected Vehicle Environment initiative by downloading the Concept of Operations and System Requirement documents and their webinar slideshows below.
STAY CONNECTED
Sign up here to stay up-to-date on the latest from Smart Columbus.