Electric Vehicle Consumer Adoption
How
the
Electrified
Dealer
Program
Boosts
EV
Sales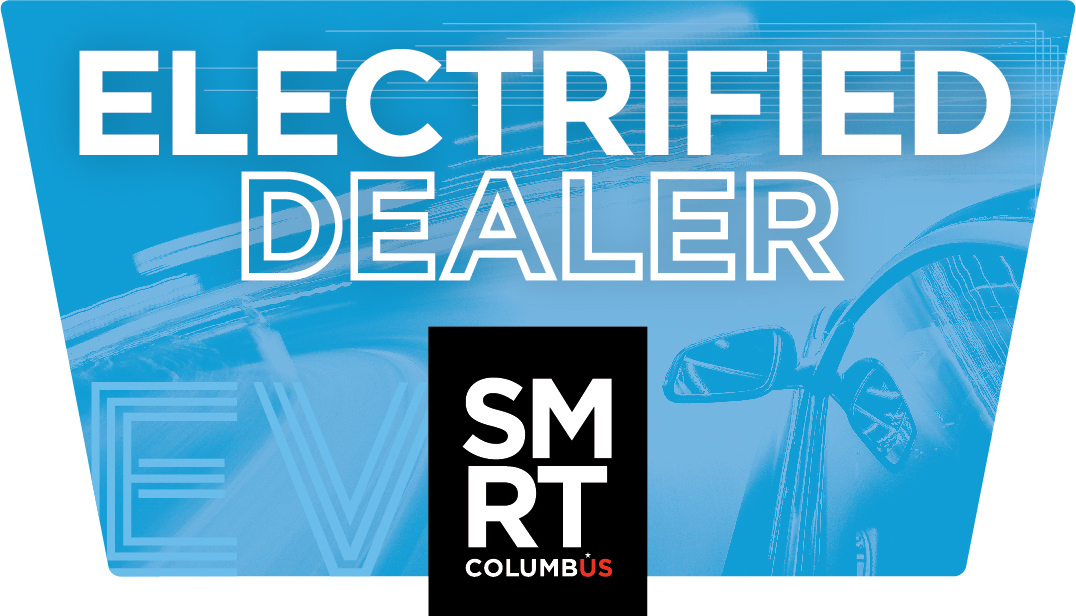 Like many cities in the Midwest, the Columbus market is primarily personally-owned vehicles. With a goal to increase electric vehicle (EV) ownership by nearly 500 percent by 2020 in the Columbus region, car dealers are critical to Smart Columbus' goal to electrify the transportation sector. 
Smart Columbus decided to prioritize dealerships and engage them on how to get buy-in from consumers to increase sales and grow a community of EV owners. Smart Columbus engaged dealers with the narrative that original equipment manufacturers (OEMs) are investing billions of dollars by investing in EV technology, showing that the transition to the electric drivetrain is inevitable. To be ahead of the curve and future-proof their business, dealers have to be educated on EVs and know how to sell them. Otherwise, their companies are taking a long-term risk. Since Smart Columbus is an influential and visible local brand, we asked area car dealerships to partner with us, and lead on EV sales in exchange for local recognition and preparation for the future of the automotive industry.

The Smart Columbus Electrified Dealer certification process has been embraced by dealers, especially the dealers that want to be forward-thinking and leaders in the community and among their peer dealers.

Here are a few of the steps we took to create the Electrified Dealers program:

Understanding the EV Sales Landscape
To sell EVs in the seven-county Columbus region, dealers must stock cars with lower or often negative profit margins from manufacturers that don't receive a state incentive.

According to Autos CheatSheet, these states receive per-car zero emission vehicle incentives: 
New York at $2,000
Massachusetts at $2,500
Connecticut at $3,000
Maryland at $3,000
Delaware at $3,500
Colorado at $5,000
California up to $7,500

Studies show that EVs are known to cost less to maintain and therefore generate less dealer revenue from ongoing service and repair work.  This current financial environment strains the manufacturer-dealer relationship and creates a disincentive for dealers to promote EVs to car buyers.

Creating an EV sales environment
Through discussions with dealers, manufacturers and consumers, we developed the Electrified Dealers framework to create a high-quality sales environment. The key components included: 

Readiness
Dealers are required to have inventory on lot. 
Dealers must have a live EV charger on site and/or a dummy charger in their showroom that staff and consumers can use to show customers how they will charge their car. 
At least two sales staff must be trained by Smart Columbus on the Smart Columbus program itself and the benefits of driving an electric vehicle. Training occurs twice a year.

Promotion
Dealers are asked to actively market EVs to increase their visibility beyond what the Smart Columbus program is doing. 
Dealers offer educational material on EVs in their showroom. Smart Columbus will help co-create the educational materials if desired. 
Dealers need to provide an EV owners gift that Smart Columbus created and pays for to new EV buyers. Since EV owners are the best advocates for EVs, this gift is designed to welcome EV owners to the club, provide information on charging and encourage them to share their EV experiences with others.

Support 
Dealers share monthly ZIP code, age and gender information for each EV sale. 
Dealers are asked to consistently engage with the Smart Columbus team to make sure there is program alignment and how to best market EVs to the central Ohio population. 

Understanding dealer needs
These items allowed the Smart Columbus team to gain wider engagement and buy-in from dealers and create a support community around EVs.  In exchange, dealers receive the following incentives:

Education
Free EV sales training, as not all dealers have staff trained on the benefits of EVs.
Educational material on the benefits of EVs that can be co-branded with the dealership.

Sales
Leads from a Ride & Drive program that conducted more than 7,000 test drives in 2018.

Marketing
Co-marketing opportunities where we co-promote certified dealers.
Community-wide recognition as a Smart Columbus partner.  This promotes the dealers and drives traffic to their dealerships. This is done on our website, at the Smart Columbus Experience Center and at our Ride & Drive events on corporate campuses.
 
Initial Results
The Smart Columbus Electrified Dealers program launched in August 2018, and 13 dealerships were certified within the first five months. The first Electrified Dealers collectively carry 16 EVs and PHEVs models ranging from sedans to SUVs to minivans. 

Read more about the Electrified Dealers program in the project overview available below.
 
Playbook Resources
STAY CONNECTED
Sign up here to stay up-to-date on the latest from Smart Columbus.