Our Journey
Engaging
Residents,
Students
and
Community
Leaders
through
Smart
Columbus
Live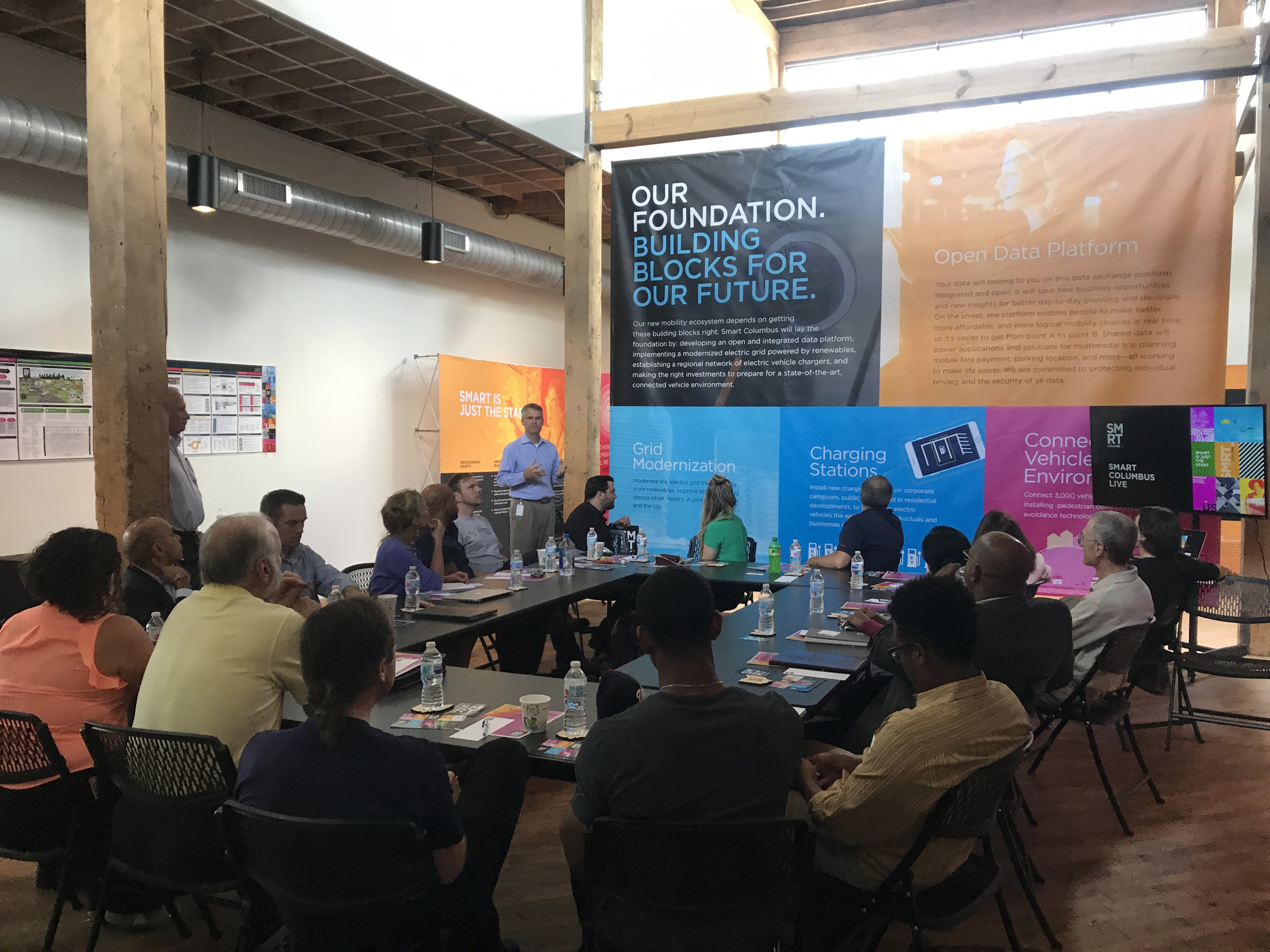 When Columbus won the Smart City Challenge in 2016, we knew we needed to create a forum to introduce the community to the Smart Columbus initiative and better understand their needs and expectations. Smart Columbus Live started in July 2017 as a way for the Smart Columbus team to generate buy-in from community stakeholders and educate Columbus residents about our mobility and sustainability concepts for the future. 
Smart Columbus Live was a two-hour, interactive engagement activity facilitated by leaders of the Smart Columbus initiative, representing both the City of Columbus and the Columbus Partnership. The experience provided attendees with a foundational understanding of the future of mobility and an overview of the U.S. Department of Transportation Smart City Challenge and resulting projects and priorities. Each session concluded with an open Q&A session and opportunity to discuss next steps for attendees to get involved, which included many of our senior leaders and community stakeholders. During each of our events, many of our senior leaders and community stakeholders were present to dialogue with and hear the opinions of attendees. 

Over the course of nine months, we hosted 1,526 people during 96 Smart Columbus Live sessions held at the Columbus Idea Foundry, a coworking space in the city's Franklinton neighborhood near downtown. 

Who attended?
Smart Columbus Live attendees included residents, civic leadership, corporate partners, students and visitors from outside of the city. About 500 of the attendees (35 percent) came from our coordinated efforts to engage Acceleration Partner companies. A total of 60 percent of attendees came from private sector companies. In total, 350 unique organizations were represented through Smart Columbus Live attendance. 

Elected officials and corporate leaders from the city, the state and across the country were able to learn about our efforts and join the conversation ignited by Smart Columbus Live. We even hosted delegations from Japan and The Netherlands, further solidifying our global presence. 

What did they think?
We made sure to issue both pre- and post- surveys to attendees to gauge their initial thoughts about Smart Columbus, and if those thoughts changed after attending Smart Columbus Live. 

Prior to participating in Smart Columbus Live, attendees rated their excitement and confidence in Smart Columbus at 3.9 out of 5. After attending, excitement and confidence was rated at 4.34 out of 5. About half (52 percent) of attendees were not interested in electric vehicles before Smart Columbus. Afterwards, 73 percent of attendees reported considering an electric vehicle for their next purchase. 

The majority of attendees were most interested in the future of transportation in general (78 percent), how Smart Columbus is organized (64 percent) and self-driving/autonomous vehicles (58 percent). 

Shaping the Smart Columbus Experience Center
Due to the success of and continued interest in Smart Columbus Live, we saw there was a need for continued community and stakeholder engagement. Building on that momentum, we took the learnings from Smart Columbus Live and leveraged them as we designed the Smart Columbus Experience Center, our permanent public education space. 

We found that the hours of operation and location had to make it easy to access for those interested in Smart Columbus. We also knew that the space needed to be interactive—people wanted digital interfaces, live experiences, and the option for both self-guided and facilitated tours. 

Finally, because of Smart Columbus Live, we understood that our marketing and promotion of Smart Columbus and the Experience Center needed to include clear yet exciting explanations of our many initiatives. 

To read more in-depth about our audience demographics, survey data and how it shaped Smart Columbus outreach strategies, download the complete Smart Columbus Live report below. 
 
Playbook Resources
STAY CONNECTED
Sign up here to stay up-to-date on the latest from Smart Columbus.