Our Journey
Transporting
Our
City
to
the
Future:
Five
Lessons
Learned
Since
the
Smart
City
Challenge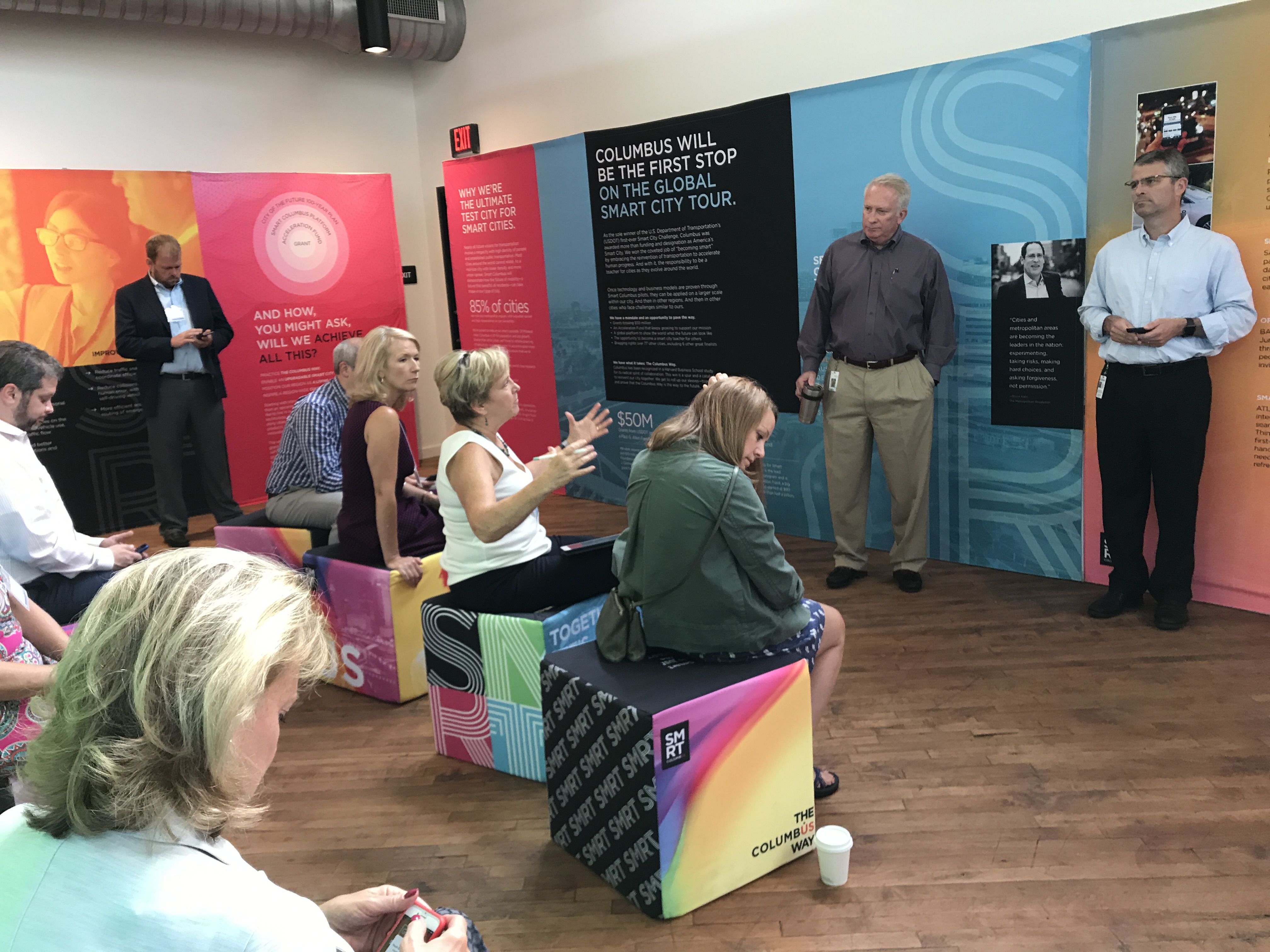 Here in Columbus, we have been tasked with moving the country forward with one of the most comprehensive and human-centered smart city deployment programs in the world. Columbus is the 14th largest city in the U.S., and home of the fastest growing economy in the Midwest. In 2016, Columbus embarked on its smart city journey by winning the first-ever U.S. Smart City Challenge sponsored by the U.S. Department of Transportation and the Paul G. Allen Philanthropies. Columbus beat out 77 other U.S. cities and took on the coveted job of modeling for the world how a midsize city becomes "smart" by embracing the reinvention of transportation to accelerate human progress. 
The two Smart City Challenge grants totaling $50 million have served as a catalyst to attract and inspire more than $500 million in smart city investments in the region from private, public, non-profit and academic institutions, with a goal of reaching $1 billion in investments by the end of 2020. 

We are still at the beginning of our journey to becoming smart, but there is no doubt that winning the U.S. Smart City Challenge has provided Columbus the greatest opportunity to transform. With this invaluable opportunity comes unique challenges. But in the face of all we've encountered, one theme has emerged as the critical ingredient to our success: the spirit of collaboration. This is a mindset and way of doing business that every city must have if they want to continue on this journey, and it can be harder to manage than it sounds. 

Here are five key lessons we've learned about collaborating to launch our smart city initiatives: 

1. Break Down Silos with Strong Leadership 
Columbus Mayor Andrew J. Ginther was in his first term when we won the U.S. Smart City Challenge, and he did not back away from pursuing this massive opportunity for our city. From day one, he demonstrated a commitment to working with the private sector and academic community to successfully implement the Smart Columbus program. 

A strong mayor is key to bringing together stakeholders and partners. But more notably, the mayor's duty is to facilitate the change that must take place within city government to foster the interdepartmental collaboration required to execute. Early on, Mayor Ginther engaged the Columbus Partnership, the region's business community leadership organization, to raise a matching Acceleration Fund of aligned investments and serve as the conduit to the private sector in the execution of the program. This alliance has been institutionalized into the operations of Smart Columbus and has enabled far-reaching collaboration with the local private sector. 

When the grants were awarded to Columbus, the program office was initially positioned within the city's Department of Public Service. However, it soon became clear that becoming a smart city was bigger than any one department. As a result, Mayor Ginther hired Michael Stevens as the city's first chief innovation officer reporting directly to him and redirected the reporting function of the program management office to this new position. This new leadership structure enabled the creation of an enterprise-wide program management office, pulling expertise and skill sets from multiple departments to fill out the program team. 

2. Align Partners with a Collective Ambition 
Smart Columbus has various stakeholders including grant funders, local investors such as American Electric Power, The Ohio State University and Nationwide Insurance, residents, implementation partners such as Honda and the Central Ohio Transit Authority and neighboring municipalities. While we collaborated with dozens of stakeholders and secured nearly 100 letters of support during the application process, once we won, we needed to articulate what the win would mean to our partners and our community. 

While we had proposed specific projects, we lacked a strategic vision that our community could rally behind. Upon forming an executive committee of our most invested stakeholders, we engaged consultants from CityFi and Deloitte to help us get our arms around the opportunity and align to a common vision. This visioning exercise was a critical step in our journey. We were able to articulate a common purpose for partnering and collectively acknowledge that this was much bigger than a grant program. This was truly our opportunity to transport our city to the future and bring all residents along in the process. 

Upon articulating our vision to "be the model for connected cities of the future," we completed an integrated technology roadmap. This helped us to outline our grant projects against our mission and vision, and look across the activities of the private sector, academic community and regional communities to identify complimentary initiatives and synergies across the region. 

The roadmap is more than a project plan; it's a vision for where we are and where we'll go, collectively, as a region. By articulating this common vision, we were able to look beyond the three- and four-year tenures of the grants to determine where our city is going in the decades to come. 

3. Collaborate Radically 
Our spirit of collaboration has been strengthened by systematizing it. As the lead recipient of the grants, the City of Columbus formed a joint operating structure with the Columbus Partnership, which will lead the effort's collaboration with the private sector. 

Mayor Ginther was active in elevating Smart Columbus as a key priority to be embraced across city departments. He empowered Michael, as chief innovation officer, to lead the grant implementation and plan for future innovation in the city. Mark Patton was also added to the Smart Columbus leadership team, charged with leading private sector engagement as vice president of Smart Cities for the Columbus Partnership. 

Together, we have formed a joint operating structure and co-located our teams in a shared headquarters. Our goals are to facilitate radical collaboration and cultivate an entrepreneurial spirit that will enhance the execution and performance of the grant projects and aligned efforts. The integration of the public, private and academic sectors was solidified as organizations including The Ohio State University, American Electric Power and Ford Mobility empowered leaders to sit in our shared office and lead their organizations' engagement in the initiative. It's been amazing how something as simple as sharing a workspace or traveling together can make communication faster, plans more informed and action more impactful. 

4. Communicate, Communicate, Communicate
Even though collaboration is at the heart of our approach, even we are at times overwhelmed with the influx of community interest in this initiative. To combat that, Smart Columbus organized all interested parties into seven different categories and developed an engagement strategy to maintain open communications via an assigned engagement lead. We also partnered with Resource/Ammirati (now IBM iX) to develop the Smart Columbus brand and better tell our story to stakeholders and the public. 

We developed Smart Columbus Live, a weekly, two-hour interactive educational session about the future of mobility, the opportunities and challenges ahead, what Columbus is doing to model the way, and how each of us can get involved. More than 1,500 residents attended the educational sessions over nine months. By organizing our communication with stakeholders, partners and the community at large, we've been better able to channel and capture interest and engagement. 

5. Empower Others to Act 
Columbus is taking a unique approach to shifting our mobility patterns: we're partnering with the private sector, asking them to help employees re-think how they get to work in order to solve regional mobility challenges. More than 82% of our region's workforce drives to work alone in a car. If we can change the ways we get to and from work, we can further strengthen our infrastructure, reduce our environmental impact and grow our economy. 

This is where our region's employers will serve as key — and perhaps unexpected — influencers in our success. Columbus launched the Acceleration Partner program to organize and rally private sector engagement in Smart Columbus. To date, 50 companies have signed on to help drive the culture change that will encourage residents to drive electric and drive less. Many of these companies are hosting the Smart Columbus Ride and Drive Roadshow, through which, we've hosted close to 8,000 electric vehicle test drives. We have a goal of securing 100 partner companies by 2019. In the year ahead, we will continue to bring together communities that can accelerate and grow our efforts. We will engage the start-up and entrepreneurial communities, large and small companies across the private sector, architecture and design stakeholders, regional municipalities, students and researchers and city departments. 

"The Columbus Way" – Columbus' unique spirit of collaboration — helped to bring the opportunity of the Smart City Challenge grants to our city. As we reflect on our early learnings, it's this theme of partnership, engagement and collaboration that has woven through our lessons learned, and through our successes. It's this spirit that will carry us forward as we seek to transport our city, and all of its residents, to the future. 
 
STAY CONNECTED
Sign up here to stay up-to-date on the latest from Smart Columbus.