Partner Perspectives
Bosch
Showcases
Video-as-a-Sensor
Technology
at
Smart
Columbus
Experience
Center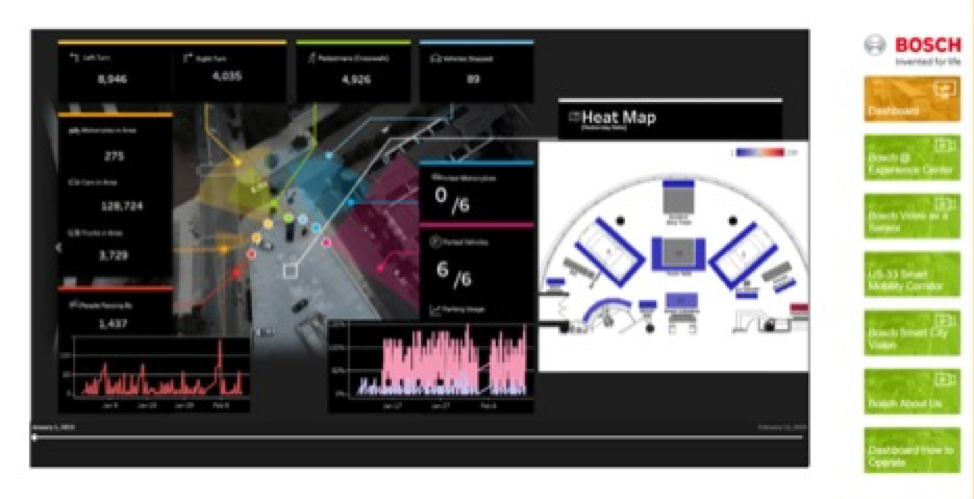 The dashboard from Bosch lets visitors to the Experience Center review real-time data from the outdoor and indoor video sensors.
Imagine receiving an in-car alert when a pedestrian enters a crosswalk or instantly knowing where there's an empty parking spot nearby. These futuristic scenarios are nearly a reality, and thanks to a partnership between Bosch and Smart Columbus, visitors can see these features in action at the Smart Columbus Experience Center. 

The Smart Columbus Experience Center is a first-of-its-kind education destination located in downtown Columbus, and Bosch provided an interactive exhibit that lets visitors learn how cities will use intelligent sensors to solve complex urban challenges. The exhibit reveals the power of Video-as-a-Sensor technology and Intelligent video analytics, showing how both innovations can positively impact the city.
 
Bosch continues to develop smart-city and smart-infrastructure technologies to address mobility challenges in Columbus and other municipalities. The Video-as-a-Sensor technology at the Experience Center showcases the technology's ability to create a smarter, safer and sustainable transportation ecosystem for the community. Bosch has been developing its Intelligent Video Analytics technology for the automotive space for decades, where it is used in driver-assistance and automated-driving applications. Bosch is applying the same technology inside their security cameras, bringing intelligence to infrastructure through intelligent traffic, smart parking and mobility solutions. 

Video-as-a-Sensor in action
Inside the Experience Center, four panoramic cameras capture data on how visitors move within and engage with the space. Outside the facility, seven video sensors focus on traffic flow, parking availability and safety. Bosch's dashboard inside the Experience Center displays metrics generated from video sensor metadata on an interactive touchscreen, allowing visitors to experience how using Video-as-a-Sensor technology can improve quality of life by enabling improved traffic management, faster parking and enhanced safety for motorists, bicyclists and pedestrians.

By sensing pedestrians, vehicles and bicyclists on the streets and sidewalks as they pass, the external cameras capture traffic-flow statistics, measure parking availability and identify hazards, such as stopped vehicles. This data can help users determine how specific locations are used by pedestrians, as well as provide insights into safety improvements. Data from the interior sensors, which count the people entering the Experience Center and measure their engagement with the displays, can be applied as a heatmap to determine the busiest times and most-popular exhibits. 

Smarter infrastructure
In these scenarios, Video-as-a-Sensor technology has the potential to improve safety and efficiency for pedestrians, bicyclists and drivers. Using object classification, the technology is configurable so that it can recognize what it's looking at and understand contextual elements. For example, it can sense pedestrian, bicycle, car and truck locations; monitor people at a crosswalk; and identify whether pedestrians are crossing the road – or even jaywalking. 

As a result, Video-as-a-Sensor technology can help improve driver safety. The technology provides a practical way to, for example, analyze traffic flow, identify stopped vehicles and identify when a vehicle is driving the wrong way. Alerts can be sent to traffic management centers, communicated wirelessly to connected vehicles and displayed on digital message boards for non-connected vehicles. The technology can play a role in smart infrastructures, helping to improve safety for pedestrians, traditional vehicles and automated vehicles. 

Bosch's video sensors are edge-computing devices: Intelligent Video Analytics run on the raw video stream inside the camera, eliminating the need for additional computers at the pole or expensive networks for cloud-based analytics. This allows high-quality data to be captured continuously. Infrastructure owners can choose whether they want both video and metadata, or only metadata to be pulled from the cameras, allowing video to remain private and secure in the cameras.  

Safety and security are priorities for Bosch, safeguarding privacy and data authentication.  Bosch secures data from hackers by encrypting it at the hardware level. Bosch's ESCRYPT subsidiary provides embedded security and the network key management infrastructure.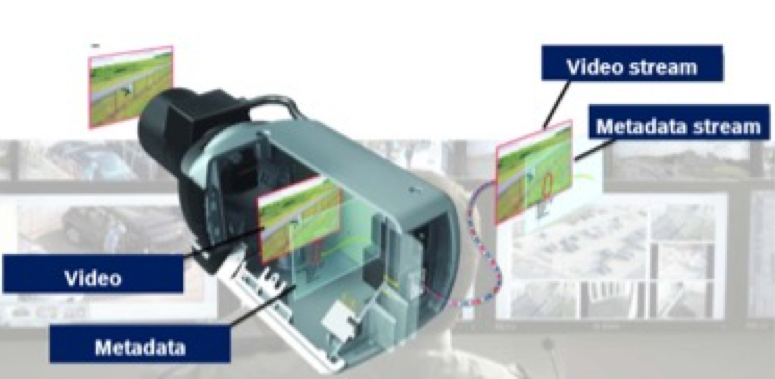 Bosch video sensors are installed outside and inside the Smart Columbus Experience Center and are being deployed along the US 33 Smart Mobility Corridor. 

Broader vision
Bosch's technology is also being used as part of Ohio's U.S. 33 Smart Mobility Corridor project, funded by the U.S. Department of Transportation. Ohio is investing $15 million in advanced highway technology along the corridor, a 35-mile stretch along U.S. Route 33 northwest of Columbus, and Bosch is a key partner. Using Bosch's cameras with Intelligent Video Analytics, the systems have the ability to improve corridor safety by warning drivers of dangers ahead. Some of these alerts include cross-traffic warnings, curve-speed warnings, pedestrian detection, queue warnings, work-zone warnings and wrong-way driver detection.   

These efforts show that the smart, connected city of the future is already here—and Columbus is among the first movers. Even in these early days of the smart city revolution, advanced technologies are showing the potential to provide safer roads and improved quality of life for citizens. Additional technologies can also help urban areas overcome challenges in the areas of air quality, mobility, energy consumption, public safety and security.
In the future, Bosch, Columbus and neighboring municipalities will be able to bring the interconnected transportation ecosystem fully to life.  

For more information about Bosch's smart city capabilities, please visit here.
STAY CONNECTED
Sign up here to stay up-to-date on the latest from Smart Columbus.