Partner Perspectives
MORPC
Energy
Study
Provides
Baseline
for
Future
Sustainability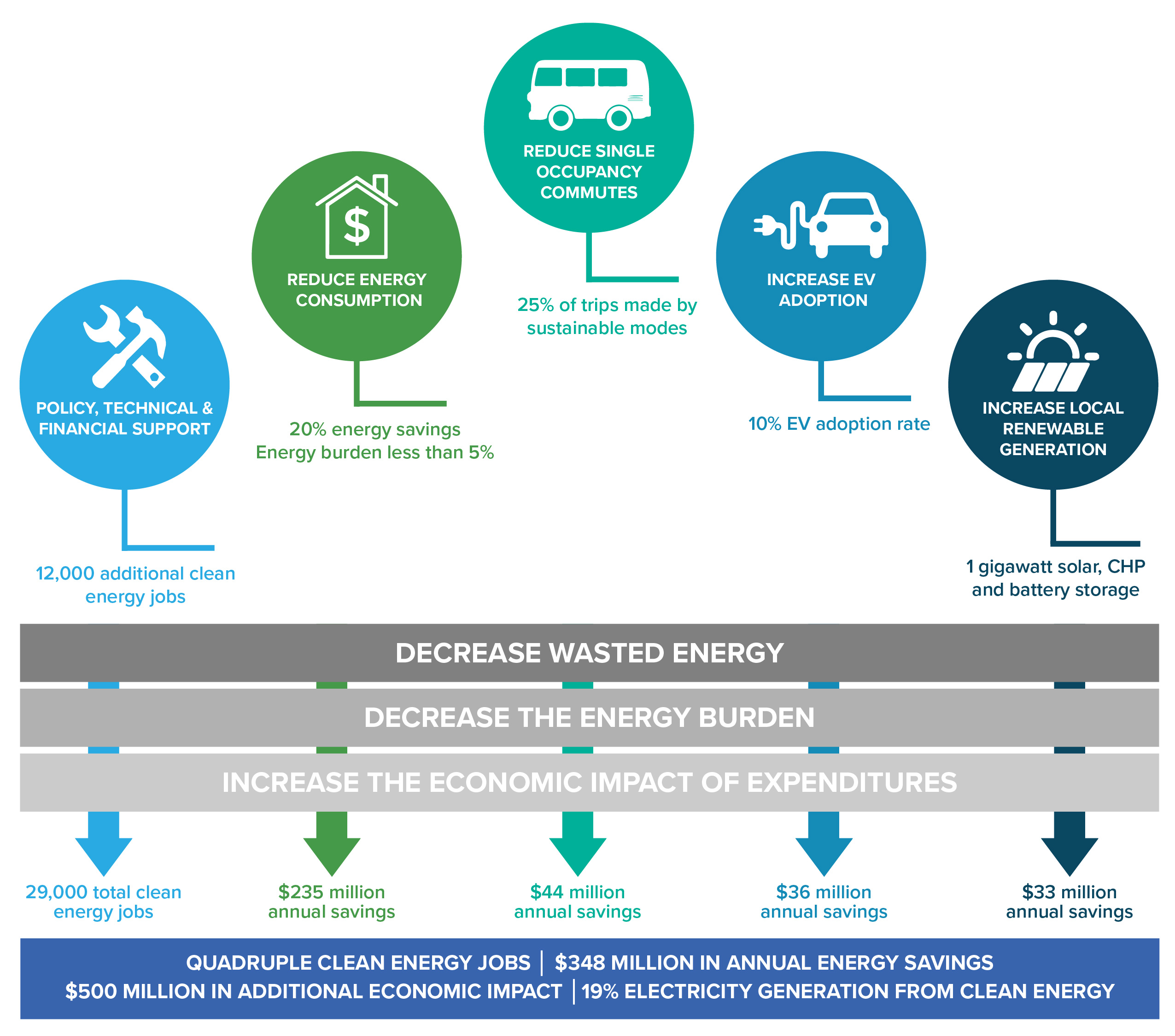 The Franklin County Energy Study Recommendations uncovered the opportunity for over $348 million in annual energy savings, leading to an additional $500 million in annual economic impact locally. For more information, please visit morpc.org.
Energy has been as vital to our built environment and economy as water and air, and a sustainable energy future will be essential to the equitable and vibrant vision we have for all residents and businesses in the central Ohio region. Of course, to know where we are going, it is necessary to know where we are. The Franklin County Energy Study was commissioned by the Franklin County Board of Commissioners to establish an energy baseline by examining how much and how intensively energy is produced, imported, consumed and lost annually by the county. This baseline serves as a starting point to align regional energy initiatives, set priorities and measure success.

What's working
The study indicated that Franklin County is doing well in many areas. Energy productivity within the county is on par or better than the national average. Total greenhouse gas emissions associated with energy consumption are decreasing while population increases. As well, local utilities are active in pursuing customer-focused programs around energy efficiency, while many local initiatives are already in place to address energy consumption.

Areas of improvement & recommendations
Identified in the study are also three areas needing improvement. There are neighborhoods in Franklin County that are paying a higher-than-acceptable percentage of their household income to heat and power their homes. As production of energy is minimal in Franklin County, the economic impact of our spending on energy is captured outside of the county. Nearly 70 percent of energy is wasted due to inefficiency. As a result, Franklin County residents and businesses are spending more on energy that what is necessary. 

After the study was completed, an additional Recommendations document was produced to begin the conversation on how to continue the successes experienced in the County and rectify the issues identified. Understandably, the recommendations are well-aligned with Smart Columbus' goals of driving economic growth, improving quality of life and fostering sustainability. 

Smart Columbus alignment
Both Smart Columbus and Franklin County recognize that the move towards electrifying the transportation sector offers three significant improvements to our current energy system: 
a decrease in costs
an increase in energy efficiency
a reduction in emissions. 

These three improvements, in turn, have the benefit of increased economic impact and jobs, a decrease in resource consumption leading to greater resiliency, and an improvement in the air quality experienced not only in central Ohio, but also beyond Ohio's borders. 

For instance, further analysis of the study's findings showed that a Franklin County resident who switches to an electric vehicle, on average, will save around eight cents per mile (with gas prices currently around $2.70 per gallon). If only 10 percent of Franklin County switched to electric vehicles, this would translate into over $36 million in energy savings every year. Not only does this mean more money in the pockets of residents, but it also means more money available to be spent locally, supporting jobs and businesses within our communities. 

Similarly, the adoption of electric vehicles contributes to the conservation of resources. A vehicle powered by an internal combustion engine is only a third as efficient as an electric vehicle. Touching the hood of your car after driving a few miles demonstrates the magnitude of lost energy, in this particular case, through heat. This wasted energy costs consumers on average, nine cents for every mile they drive or nearly $1,000 every year.  

Not only does the conservation of resources lead to economic benefits, but also environmental benefits that cannot be understated. Even with the current fuel mix for electricity generation, electric vehicles can provide us with transportation while minimizing the sector's contribution to greenhouse gases and particulate matter. Both Smart Columbus and the study's recommendations promote local generation of electricity from renewable sources. In addition to the reduction in pollution, local generation compounds the economic impact of our energy expenditures.
 
It is projected that central Ohio will be home to nearly three million people over the next few decades. If our current commuting patterns are continued, Franklin County alone may see an additional 70,000 cars on the road by 2030. As Smart Columbus develops multimodal operating infrastructure and technologies for the seven-county region, we look forward to the additional benefits of increased sustainable modes of transportation. By working with local partners and integrating new technologies, Franklin County hopes to eliminate the need for nearly 50,000 of those additional vehicles, and thus the associated infrastructure to accommodate them and the pollution caused by them.

Credit is often given to the partnerships Columbus was able to bring to the table for this initiative. Indeed, working together on Smart Columbus projects, and indirectly through individual initiatives, the region is beginning to realize success in areas where it set out to succeed and is stronger in facing issues that only a few years ago, may have seem too difficult to tackle. Columbus and Franklin County have always fostered a collaborative approach to the growth of the area. In partnership with MORPC, that same approach has fostered growth of the region through the shared success of our members. In this is our strength to secure an equitable city, develop a sustainable region, and pioneer our way forward as authors of our own future.   

Download the full study and recommendations below.
STAY CONNECTED
Sign up here to stay up-to-date on the latest from Smart Columbus.