Smart Columbus Operating System
Essentials
of
the
Smart
Columbus
Operating
System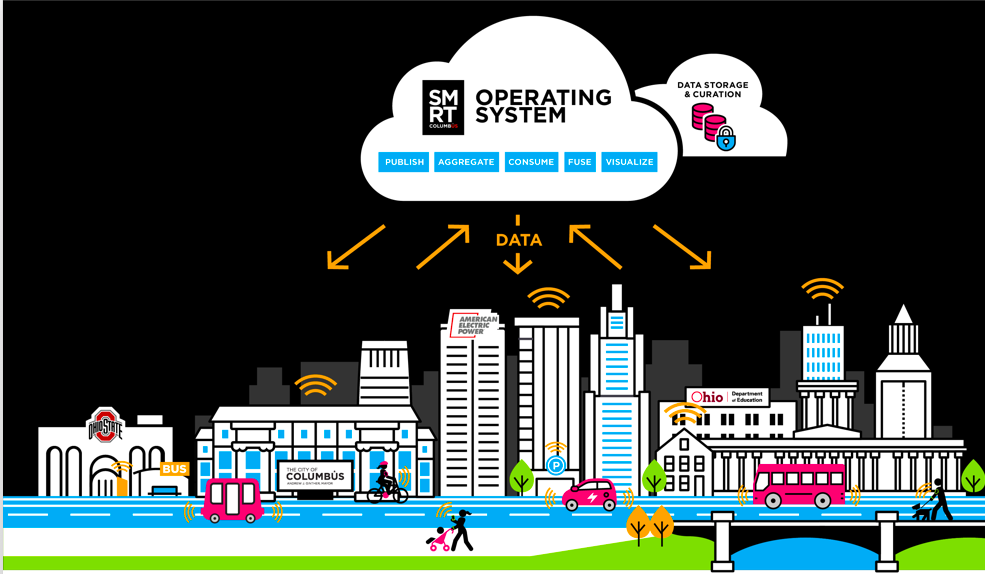 The heartbeat of the Smart Columbus program is the Smart Columbus Operating System (SCOS), a web-based, dynamic, governed data delivery platform built on a federated architecture. We have taken great care to establish a vision, create detailed architecture and design and develop our approach using Agile Project Management methodologies to create a system that can be used to enhance human services.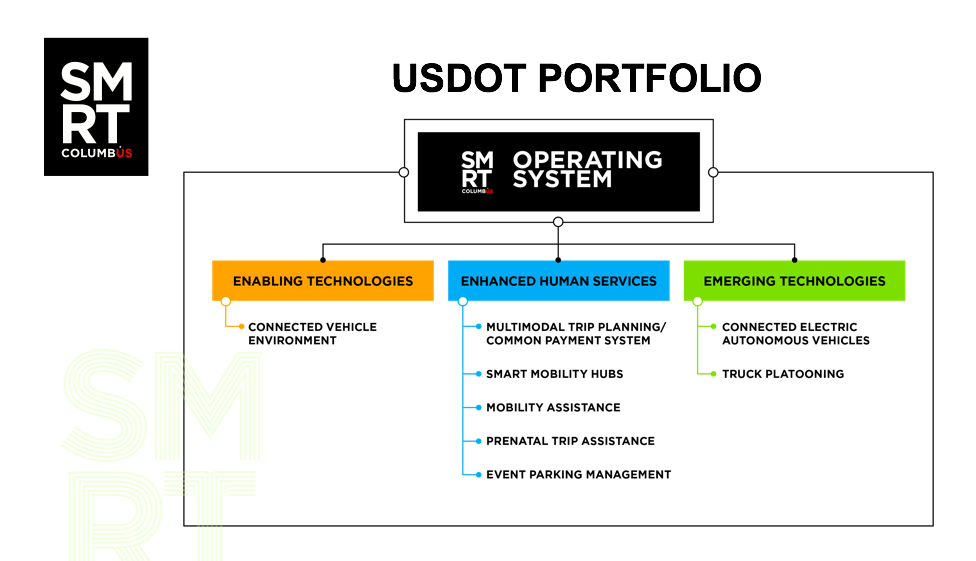 Eight projects within the U.S. Department of Transportation Smart Columbus portfolio are fueled by the data from Smart Columbus Operating System:
Connected Vehicle Environment
Multimodal Trip Planning/ Common Payment System
Smart Mobility Hubs
Mobility Assistance for people with Cognitive Disabilities
Prenatal Trip Assistance
Event Parking Management
Connected Electric Autonomous Vehicle 
Truck Platooning

The operating system is being designed and built to collect data from a variety of inputs including public, nonprofit, education-based and private sector contributors. These inputs may come from other systems, devices and people. All of these are a critical part of building this ecosystem of innovation. We don't believe incremental delivery alone is valuable. It requires iterating on the idea, measuring the results and building upon what works. 

We anticipate that there will be many different users and consumers of the data collected from the SCOS, including:
Public and government entities
Health and human resources organizations
Entrepreneurs and startups
Researchers at universities
Private sector partners

Why Open Source?
We chose an Open Source platform for the SCOS to ensure replicability, sustainability and portability. We want other cities to use the Smart Columbus Operating System and tailor it to fit their needs. We also envision the open source community to eventually contribute code to add features and functions to the SCOS.  

Both Agile and Open Source are cultural shifts, especially in government. When working in a traditional Waterfall Model, the idea of building something without all the requirements being fully defined requires a mind-shift change. 

The current data platform is built on CKAN, a globally-respected tool for Open Data management. It is serving the program at this time but will be replaced by a new, more powerful environment as we move to Platform 2.0.

Creating business value
One of the most important focus areas for our team is to ensure we have line of sight and alignment to the business value being created by the program. To do that, we use a tool called Value Stories. It provides a "North Star" for the team throughout the life of the project for prioritization and scope management.

The work we do is highly technical, so it's important to connect the work to the business value for our stakeholders. We have learned the most effective way in connecting our users and stakeholders to the business value is through demonstrations and talking about the features from a user persona perspective.

Diverse approaches to development
Some projects within the SCOS are following Agile and others are following the V-Model, which is similar to the Waterfall approach. This can present challenges when building schedules, planning for artifacts and how to manage the holistic portfolio. 

We have adopted a Scrum of Scrum approach to ensure coordination across the program. The Scrum of Scrum involves each project manager reporting out quickly on activity within their project for the week, what is on deck, and where they may have blockers.  

Can the SCOS be duplicated in other cities?
For cities to take full advantage of a comprehensive data management platform, there needs to be consideration for IT modernization. When working with legacy systems and manual processes; plan for the blockers that can be presented with this reality and work with key stakeholders to establish a plan to modernize systems and processes that result in machine readable data that will be easily ingested into the data management platform. 

To learn more about the Smart Columbus Operating System, see the related webinar here. 
STAY CONNECTED
Sign up here to stay up-to-date on the latest from Smart Columbus.