The Multimodal Trip Planning Application will allow Columbus residents to more easily access different travel options based on personal preference, price or convenience.
The Goal
A new app will make it easier to plan and pay for travel throughout central Ohio using more than one mode of transportation.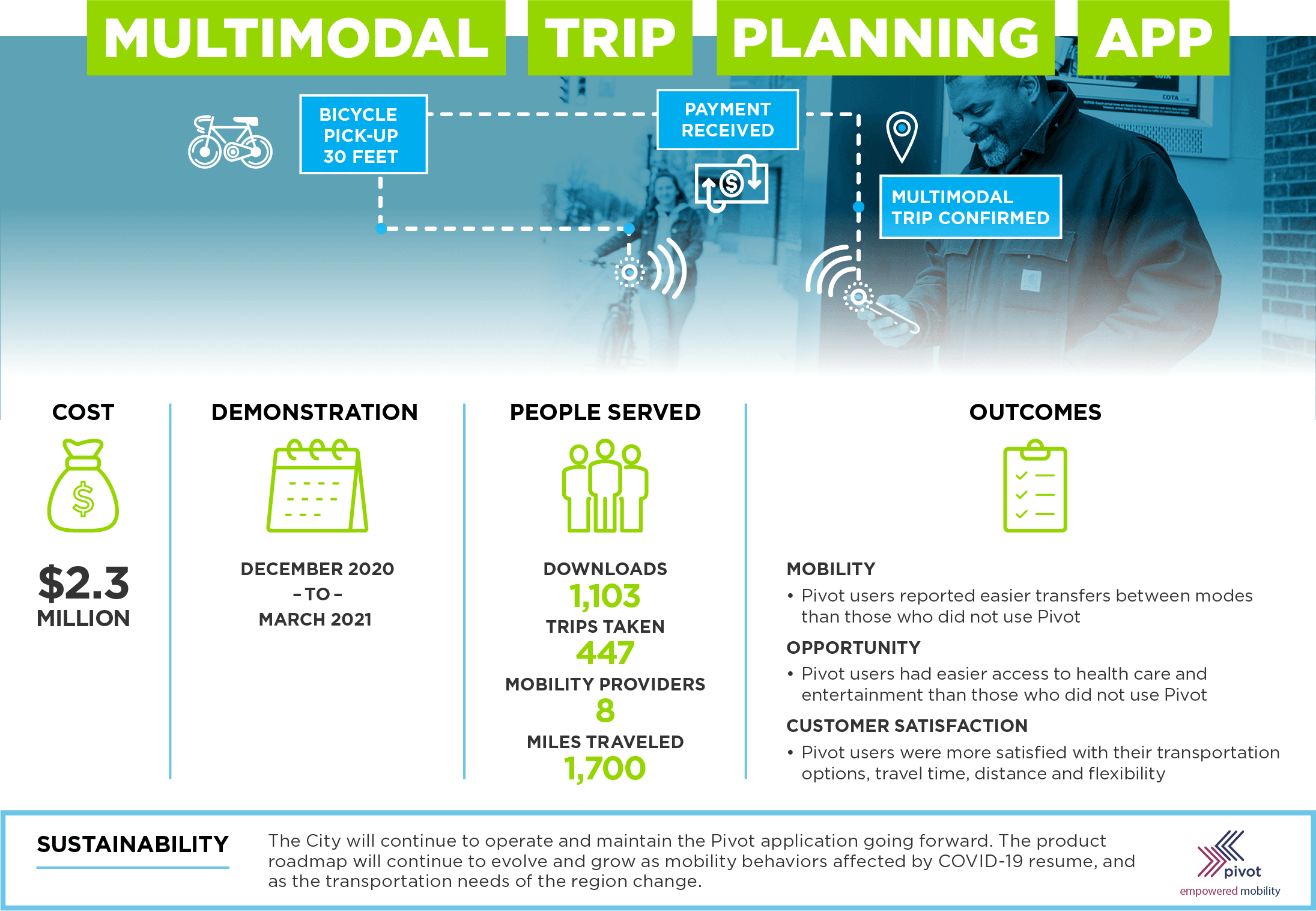 Central Ohio residents rely heavily on their own cars to travel, which contributes to traffic congestion that will only get worse as the population grows.
The Pivot app makes it easy to find and pay for the best way to get to a destination using more than one mode of transportation like a bus, bike, scooter, ride-hail service and others. The app suggests routes based on preferences such as schedule, budget and preferred transportation options. It's powered by real-time data from mobility partners optimized by the Smart Columbus Operating System.
The goal was to improve mobility by reducing traffic and increase access to jobs, education and services for all Central Ohio residents. The project was designed to allow travelers throughout Columbus and outlying communities to create multimodal trips and pay for services using a single, account-based system linked to different payment media and modes of transportation. The resulting application was branded "Pivot." Pivot makes multimodal travel options easily accessible by providing a robust set of transportation and payment options. Multimodal trip options include walking, public transit, ridesharing, bike-sharing, scooters, ride-hailing, as well as personal bikes and vehicles.
Pivot allows travelers to request and view multiple trip itineraries from within a single app, and book and pay for services through deep linking with various mobility provider apps. Users can compare travel options across modes, and plan and pay for their travel based upon current traffic conditions and availability of services.
Systems Engineering and Design

Resource name
Date
File type
Procurement

Resource name
Date
File type
Webinars and Knowledge Sharing

Resource name
Date
File type